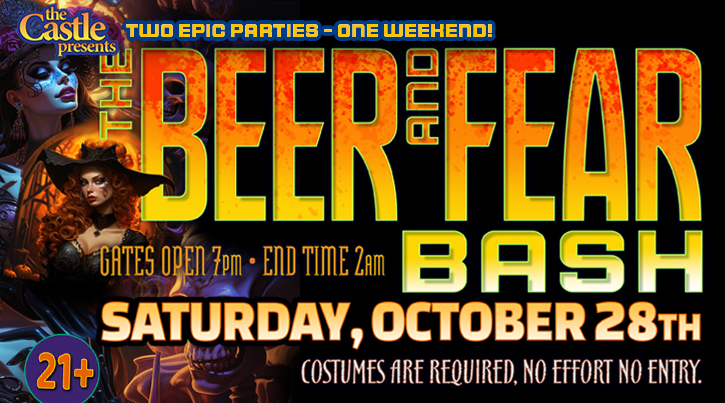 Beer And Fear Lineup 2023
Based out of Winston-Salem, NC, Brothers Pearl is a well-oiled rock and roll machine made to move you.  These local legends will be rocking out the Castle stage all night.  If you haven't seen them live before you are in for a real treat.
DeadBeat Barbie
DeadBeat Barbie (DBB if you're hip) is putting a fresh new spin on cover tunes, playing infectious versions of the songs you know and love. Whether you love to dance or reminisce, this dynamic act can blaze the trail to a great time! 
Their extensive song catalog covers it all, including rock, metal, pop, alternative, funk, dance, the 80s, the 90s, and even today's chart-toppers! From Adele to AC/DC, Billy Idol to Blondie—from Punk to P!nk, their creative touch and innovative style lends itself to a fresh spin on music hits through the decades.
DeadBeat Barbie is a band of accomplished musicians who have collectively played thousands of shows in the Triad, as well as the Los Angeles, Boston, and San Diego music scenes. DeadBeat Barbie is comprised of consummate professionals, with Brittany Harris on vocals, Stephen Harris on guitar and vocals, Todd Oakley on bass, and Rob Wojnar on drums. DeadBeat Barbie is electrifying, charming, and just a damn good time! 
Are you ready to become a DeadBeat? … Come Rock With Us!
Mona Loverly
Mona is back again taking the stage and hearts! Sure to rock your night and keep you captivated for hours, she's a sure to make your Mardi Gras extra special with her banging burlesque!
HeadSpin is a creative collective of performing goddesses based out of NC. Let us light up your night at the Castle with our stunning LED and fire performances!
Having a passion for simple and tasty meals, Gnam Gnam's is all about quality and uniqueness with lots of flavors.  We are a Greensboro-based company that prepares meals at small local events, Air Shows, and huge concerts around the East Coast.  With a variety of menus, our goal is always to make sure that every meal is "yummy yummy in your tummy". 
Menu For Our Show:
Booth 1
8" Personal Pizza
Cheese
Pepperoni
Veggie (Mushroom, Onions & Peppers)
Supreme
Char-Grilled Hot Dogs (1/4 lb All-Beef)
Booth 2
Char-Grilled Hamburgers
Cheeseburger
Bacon Burger
Western Burger
Char-Grilled Hot Dogs (1/4 lb All-Beef)
Chicken Bites
Sauces: BBQ, Jerk & Buffalo
Sandwiches
Seasoned Fries
Cheese Fries
Loaded Fries – Pork or Bacon
Nachos
Castle Mardi Gras's only Spanking Booth crewed by Mr. McSpanky and Fetish After Dark's professional dominant's from across the Carolinas.  With 3 spanking areas, over 80 toys to choose from, and some of the top fetish performers on the east coast, you've got plenty of options to warm your buns.  You can also get beautifully made toys of your own from McSpanky's Floggers or sexy Fetish After Dark merchandise.  This is the only fully interactive performance at Mardi Gras Masquerade, so get a selfie with the hottest show in town.
Danger Angel grinduated from the Salomé Cabaret Burlesque Academy, class of 2019. He is a member of the Flamingo Revue and was a featured performer at Dragon*con burlesque in 2021. He has been cosplaying since 2009, practices martial arts and loves the creative outlet through costuming, performance and movement that burlesque allows him. Channeling his inner patronus (a magical honeybadger), he plans to live up to his name sake and bring the most dangerously #blessed performances to the stage. Equal parts silliness and sexiness, prepare to get a full serving of the ole Razzle Dazzle!!
Triad Health Project promotes sexual health and justice through radical care, love, and equity while working to free our community from HIV, its stigma, and root causes. Our vision is to see a future free from HIV.
Inclusion
Inclusion refers to internal practices, policies, and processes that shape an organization or community's culture. It speaks to how community members of a shared identity experience their environment and that their input is valued by the whole. Inclusion benefits existing populations represented within an organization or community. Source: Adapted from The Greenlining Institute and Equity and Inclusion Campaign, The Diversity Project
Belonging
Belonging is the innate human desire to be a part of something larger than ourselves. Belonging is achieved when we accept and are accepted for our true, authentic and imperfect selves. Belonging happens when we offer one another a sense of security and support that comes from acceptance and inclusion. Source: Adapted from The Gifts of Imperfection, Brene Brown and Cornell University Diversity and Inclusion Institute
Ivy Sublime is a burlesque performer and model based out of Durham, North Carolina. She has performed in live shows across the Southeast, and recently, making her mark within the digital sphere. With the allure of a tigress and elegance of a swan, Ivy will enchant you with her acts inspired by surrealism and fantasy. Always armed with elaborate costuming and wild theatrics, Ivy is sure to razzle, dazzle, and mystify – she is the Subliminal Seductress!
Franki Boom-Boom is the founder of Grave Dancers burlesque and pretty much created the burly scene in Roanoke, VA. She took her history in traditional belly dance, pin up modeling and love of all things spooky ooky to create the boom-boom she is today. She has made her way up and down the east coast and performed in festivals and horror cons such as Heavy Rebel Weekender, Days of the Dead and Helloween Fest. Now the founding member of the first Burlesque Collaborative for those who dance outside the box Out of Body burlesque.
Gourmet getaway is a eco-conscious, black female owned edible concept. Life is full of stress and things trying to bring you down, sometimes you need a little getaway and food is the perfect vehicle. Driven by a passion for cannabis and culinary exploration we strive to bring you the best of these two worlds. We take pride in creating a professional yet familiar vibe, sure to make you feel like a part of our community. With simple recipes that feel like home featuring innovative twists you will enjoy your own personal Gourmet Getaway with us.
The Salem Organic Supply
When it comes to CBD oil and hemp products, organic is always the way to go! We carefully scrutinize the products we carry and the companies we partner with to ensure we only offer pure, organic options. Plus, everything we offer is free of synthetic ingredients, colorings, additives, and preservatives. Any ingredient added to our products is either truly natural or organic in nature.
DJ Eargasm
DJ Eargasm has been rocking the castle out for years with his great mix of music that is sure to make you move! Catch him again this year for another night of great beats!
Air Faeries
Join us for new heights all night with Air Faeries aerial performers! The Faeries will be showcasing unique forms of aerial dance including Aerial Chains, LED Cube, Flying Pole and much more. Come find us flying around the Castle!"
Mortal Coil Serpentry
Mortal Coil Serpentry is the passion project of Adam and Adiana Wulf. Combining their love of reptiles, education, and all things uncommon and curious, what began with a small collection of reptiles has bloomed into a menagerie of over 200 animals in over 40 species, many rare and seldom seen. They breed an extensive variety of "not your average pet store" reptiles from their home and facility in Winston-Salem, with a strong focus on animal welfare, ethical keeping, responsibility, and the environment. They can often be found in classrooms and at community events sharing their combined 25 years of experience and knowledge. Adam currently serves as Technical Director of the North Carolina Association of Reptile Keepers.