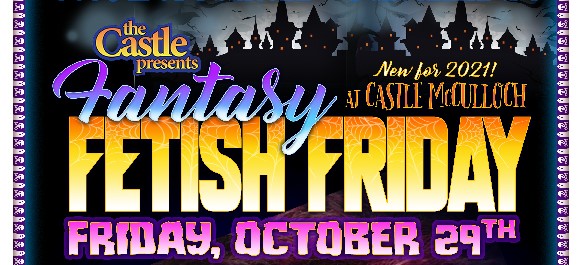 Fetish Fantasy Friday Performers and Vendors
Based out of Winston-Salem, NC, Brothers Pearl is a well-oiled rock and roll machine made to move you.  These local legends will be rocking out the Castle stage all night.  If you haven't seen them live before you are in for a real treat.
Karol Helms Aerialist and Pole Performer
From Charlotte, Karol is a multi-talented performer who has become a favorite at the castle.  She will certainly bring the heat to the Friday Fantasy Fetish Party!
Experienced rigger and suspension artist, Lew Rubens has a love and passion of bondage that shows in his work. Known mostly for his wild suspensions, Lew joined the public side of BDSM play spring of 2001 and started his first website, and started teaching his unique simple bondage style which he branded as "Lewbari" the other "bari."
Over the years Lew has worked with many professional kink sites. On his own again now, Lew is concentrating on his "Lewbari Weekend." Which is a weekend long bondage teaching seminar that takes people from beginning bondage through the basics of suspension.
When not teaching Lew concentrates his time on video production and his new product store: TheLewbariStore, where he showcases his wild and crazy inventions along with many other fun bondage and BDSM related toys.
Lew has presented his workshops and demos of his unique style at many BDSM and bondage industry events throughout the US, Canada, Austria, Jamaica, Germany, Spain, Australia & Rome.
You will see Lew showcase his talents at our shows this year in a unique and fun way and we are so excited to have him!
Fetish After Dark
Fetish After Dark combines the eroticism of BDSM with a classic cabaret performance style.  Always elegant, audience members can get up close to trained professionals presenting a variety of fetishes within BDSM.  These often include an element of danger such as using fire, electricity, whips, or knives to showcase the skill of the performers.  So come watch your fantasies made into reality live on stage.
Danger Angel grinduated from the Salomé Cabaret Burlesque Academy, class of 2019. He is a member of the Flamingo Revue and was a featured performer at Dragon*con burlesque in 2021. He has been cosplaying since 2009, practices martial arts and loves the creative outlet through costuming, performance and movement that burlesque allows him. Channeling his inner patronus (a magical honeybadger), he plans to live up to his name sake and bring the most dangerously #blessed performances to the stage. Equal parts silliness and sexiness, prepare to get a full serving of the ole Razzle Dazzle!!
Tarheel Leather Club – BootBlacking
Tarheel Leather Club, Inc. is a politically active, gender-inclusive, social and educational community service organization for persons over twenty-one (21) years of age who are interested in, or are actively pursuing the leather, S/M fetish lifestyle. Tarheel Leather Club was the first leather/SM club in Greensboro and has remained true to its leather straps for over a quarter of a century. 
We are so excited to have them at our events this year and even more excited for them to provide a Bootblacking Station.
The art of caring for leather is as old as our use of the material and goes back centuries, but is seen somewhat differently in the fetish community. Each leather item is special and treated with care and respect. The art of boot blacking goes beyond the concept of leather care. Though technique is quite important, there are much deeper aspects that are unique to the individual boot black. Its also not just about boots but any piece of leather, like wallets, floggers or straps.
Leading our bootblacks at this event is Tricksy.
Ivy Sublime is a burlesque performer and model based out of Durham, North Carolina. She has performed in live shows across the Southeast, and recently, making her mark within the digital sphere. With the allure of a tigress and elegance of a swan, Ivy will enchant you with her acts inspired by surrealism and fantasy. Always armed with elaborate costuming and wild theatrics, Ivy is sure to razzle, dazzle, and mystify – she is the Subliminal Seductress!
Franki Boom-Boom is the founder of Grave Dancers burlesque and pretty much created the burly scene in Roanoke, VA. She took her history in traditional belly dance, pin up modeling and love of all things spooky ooky to create the boom-boom she is today. She has made her way up and down the east coast and performed in festivals and horror cons such as Heavy Rebel Weekender, Days of the Dead and Helloween Fest. Now the founding member of the first Burlesque Collaborative for those who dance outside the box Out of Body burlesque.
Peaches de Vine
Peaches de Vine has been spanking asses at the Castle for 12 years. As a former dominatrix she expects devotion and tribute. Peaches is a former burlesque performer who was the head mistress of Vaudeville After Dark, producer of Stand Up & Strip, and creator of Love Your Body Burlesque.
Sir Stone Parque wants you to know that Leather and Kink is a culture that is accessible to everyone, and he hopes after Fetish Nite each of you takes a little piece of it home with you! Sir Stone specializes in Character illusions, comedy, and kinks of all kinds. With a "gift for gab" his fight for TRUTH in a community that has struggled to stand and fight. He has been recognized for his deep roots to community and the fight for equality! He performs and has hosted at his home Bar at Chemistry Nightclub. He keeps an audience engaged, "tickled to death" (yep he's that southern y'all) and on their toes. Sir Stone has toured the U.S. up and down the East Coast from Providence, RI to Orlando, Florida and worked in Houston, Tx with some of the biggest names in the business. He made the Billboards in Chattanooga Tennessee, hosted Greensboro Pride, and is a founding board member of Triad Pride. A five time national title holder that dedicated his reigns serving his community. 18 years later Sir Stone still loves what he does, firm believer that leather lifestyle is nothing to be ashamed of and is quick-witted as ever! In 2020 amidst a pandemic in the United States Sir Stone was diagnosed with stage four large B cell non-Hodgkin's lymphoma cancer. After a year of treatments and a loving husband to take care of him he bounced back and has been cancer free since January 2021. He dedicates his performances to those that I have not been so fortunate with their battle for cancer. believes that charity and doing for others is one of the greatest gifts that this life has to give.
Why Chromaknotz?
Well the first part (Chroma) comes from the latin root meaning "Color". The second part?….well its spelled that way because we wanna be cool like an "80s hair metal band"!
You are beautiful and unique, and you want your kink life to reflect that too. It's not enough to be deliciously tied up, spanked, and nipple clamped, you want to look good while you're doing it – whether it's for yourself, your Daddy, your Mistress, your adoring fans on K&P, or at your sexy play party.
Let us create a rope kit for you that showcases your assets, taps into your fantasies, and makes you fly high! We have ropes that can match your eyes, your red bottom (tee-hee!) or even that sexy mermaid costume you always wanted to be tied in. A color to match your mood…. or your rope top's mood.
And once you get going, you might forget about the color (your mind perhaps more focused on that TK you're in!) but the feel of our 100% nylon rope will get you into that space you want to be!
And riggers, we know that quality and ease of use are on your mind too. We guarantee that our dye and finishing processes ensures brilliant and colorfast colors, and a soft yet strong and flexible rope that showcases all your ties, harnesses, weavings, and suspensions beautifully.
Triad Health Project promotes sexual health and justice through radical care, love, and equity while working to free our community from HIV, its stigma, and root causes. Our vision is to see a future free from HIV.
Inclusion
Inclusion refers to internal practices, policies, and processes that shape an organization or community's culture. It speaks to how community members of a shared identity experience their environment and that their input is valued by the whole. Inclusion benefits existing populations represented within an organization or community. Source: Adapted from The Greenlining Institute and Equity and Inclusion Campaign, The Diversity Project
Belonging
Belonging is the innate human desire to be a part of something larger than ourselves. Belonging is achieved when we accept and are accepted for our true, authentic and imperfect selves. Belonging happens when we offer one another a sense of security and support that comes from acceptance and inclusion. Source: Adapted from The Gifts of Imperfection, Brene Brown and Cornell University Diversity and Inclusion Institute
Madame Melinda
Madame Melinda Tarot has been proudly reading for the Beer and Fear Bash and the Castle Carnivale since the events were created. Your reader, Mindy, has been reading Tarot since 1985 and is a medium, spiritualist, and palm reader as well. She is available for spiritual house cleansing, parties, and festivals.