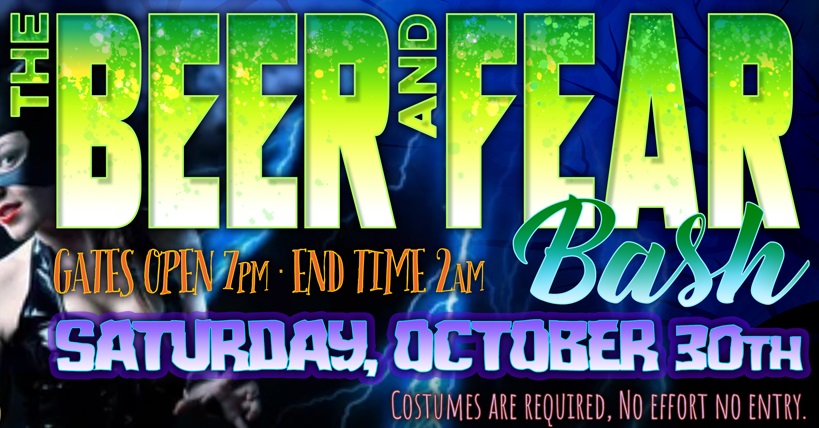 Beer and Fear Bash Performers and Vendors
Based out of Winston-Salem, NC, Brothers Pearl is a well-oiled rock and roll machine made to move you.  These local legends will be rocking out the Castle stage all night.  If you haven't seen them live before you are in for a real treat.
Jenna Rice – Guest Artist
Incredible local talent Jenna Rice performing at the castle for the first time!  You may have seen her work throughout Greensboro, watch her live at Beer And Fear.
Ivy Sublime is a burlesque performer and model based out of Durham, North Carolina. She has performed in live shows across the Southeast, and recently, making her mark within the digital sphere. With the allure of a tigress and elegance of a swan, Ivy will enchant you with her acts inspired by surrealism and fantasy. Always armed with elaborate costuming and wild theatrics, Ivy is sure to razzle, dazzle, and mystify – she is the Subliminal Seductress!
Franki Boom-Boom is the founder of Grave Dancers burlesque and pretty much created the burly scene in Roanoke, VA. She took her history in traditional belly dance, pin up modeling and love of all things spooky ooky to create the boom-boom she is today. She has made her way up and down the east coast and performed in festivals and horror cons such as Heavy Rebel Weekender, Days of the Dead and Helloween Fest. Now the founding member of the first Burlesque Collaborative for those who dance outside the box Out of Body burlesque.
This Year We Are Being Joined By The Flying Hatchet!  The Flying Hatchet is the first mobile axe throwing business created in the United States, our one of a kind axe throwing trailer contains 2 full sized axe lanes that we can take anywhere! We are based out of Greensboro and specialize in all kinds of events.
Gourmet getaway is a eco-conscious, black female owned edible concept. Life is full of stress and things trying to bring you down, sometimes you need a little getaway and food is the perfect vehicle. Driven by a passion for cannabis and culinary exploration we strive to bring you the best of these two worlds. We take pride in creating a professional yet familiar vibe, sure to make you feel like a part of our community. With simple recipes that feel like home featuring innovative twists you will enjoy your own personal Gourmet Getaway with us.
The Odd Cog – Vendor
Leather and Fancies, The Odd Cog has it all.  Some of the most unique creations on display and available for  purchase at the party.
The Salem Organic Supply
When it comes to CBD oil and hemp products, organic is always the way to go! We carefully scrutinize the products we carry and the companies we partner with to ensure we only offer pure, organic options. Plus, everything we offer is free of synthetic ingredients, colorings, additives, and preservatives. Any ingredient added to our products is either truly natural or organic in nature.
Madame Melinda
Madame Melinda Tarot has been proudly reading for the Beer and Fear Bash and the Castle Carnivale since the events were created. Your reader, Mindy, has been reading Tarot since 1985 and is a medium, spiritualist, and palm reader as well. She is available for spiritual house cleansing, parties, and festivals.